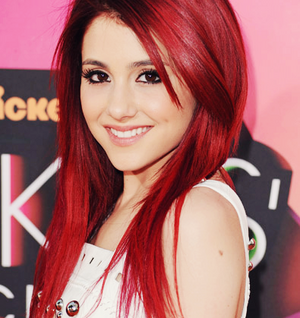 "
Thank you for loving me endlessly whether my hair is red or brown, whether my skin is normal or covered in a terrible spray tan (never happening again), whether I'm wearing a pink gown or pajamas, whether I'm starring in a Freaky Forever episode from 2009 filmed on my MacBook in Boca or in a hit Nickelodeon TV show.
"
Ariana Grande-Butera (born June 26, 1993) is an American actress, model and singer who currently plays the role of Cat Valentine on the Nickelodeon TV series Sam & Cat, after portraying Cat in the Nickelodeon sitcom Victorious, where she gained popularity in.
She makes her fandom very proud.
Grande was born and raised in Boca Raton, Florida. She is of Italian descent, half Sicilian, half Abruzzese. Her name was inspired by Princess Oriana from Felix the Cat. Grande's parents are Joan Grande and Edward Butera, a graphic designer. She has an older brother, Frankie Grande, who is a performer and producer. He also was one of Grande's backup dancers on her first tour. Grande sang as a soloist in various symphonies, such as South Florida's Philharmonic, Pops and Symphonia Orchestras. She has sang various times in NYC's Birdland and has sang the National Anthem on the first live broadcast of the Florida Panthers hockey league
Early Life
Edit
Write the second section of your page here.
Personal Life
Edit
In August 2012, Grande began dating Jai Brooks, a member of the Australian YouTube group The Janoskians. They had a long distance relationship until December 2012, when they met for the first time in New York City.
They have broken up once before in Febuary and got back together the day later.. Her and Jai are currently now split up. Rumor has it, that they broke up on August 15, 2013. Ariana has confirmed July 2013 that she is now single. Due to the clues her fandom has been aware of, they had it coming of course.
In September 2013, after much speculation, Grande confirmed on twitter that she was in a relationship The Wanted's Nathan Sykes. Sykes also tweeted out the news to his fans and thanked everyone for being so lovely about it.
Early in Ariana's life, her parents had a divorce. She was very upset that she didn't eat very much. Ariana had a little eating disorder. She was 11 and her weight was only 56 lbs. Soon enough she got better<3
Philantrophy
Edit
Image Gallery
Edit