"
Cannibal
" is a song by American recording artist and songwriter
Kesha
, from her first EP of the
same name
(2010). The song was written by Kesha alongside Pebe Sebert,
Joshua Coleman
and
Mathieu Jomphe
, with production completed by
Ammo
and
Billboard
. The song was released as a promotional single as part of the countdown to Kesha's album Cannibal on November 9, 2010.
Background and recording
Edit
The track was written by Kesha Sebert, Joshua Coleman, Mathieu Jomphe and Pebe Sebert, whilst Ammo and Billboard produced the track. The track was recorded in September 2010 at Conway Recording Studios in Hollywood, Los Angeles, California. The song serves as the title track to her first EP, Cannibal and was written, recorded and completed only weeks before the release of the EP.
Composition
Edit
Kesha employs a rap-sing style on the track where she raps lyrics like "Whenever you tell me I'm pretty / That's when the hunger really hits me" and "I have a heart I swear I do / Just not baby when it comes to you". "Cannibal", makes use of synth and dance driven backings while Kesha sings about maneater tendencies and makes a reference to serial-killer, Jeffrey Dahmer. Present throughout the song are snippets of Kesha yodeling. The aid of autotune and vocoders are prominent throughout the track, also.
Music Video
Edit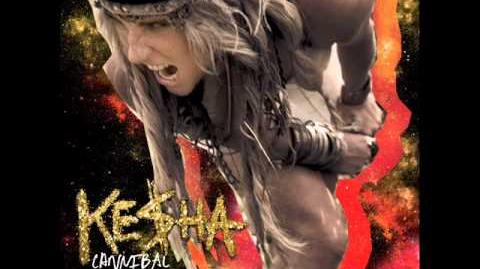 I have a heart I swear I do
But just not baby when it comes to you
I get so hungry when you say you love me
If you know what's good for you
I think you're hot I think you're cool
You're the kinda guy I'd stalk in school
But now that I'm famous, you're up my anus
Now I'm gonna eat you fool!
I eat boys up, breakfast and lunch
Then when I'm thirsty, I drink their blood
Carnivore, animal, I am a Cannibal
I eat boys up, you better run
I am Cannibal
I am Cannibal (I'll eat you up)
I am Cannibal
I am Cannibal (I'll eat you up)
Whenever you tell me I'm pretty
That's when the hunger really hits me
You're little heart goes pitter patter
I want your liver on a platter
Use your finger to stir my tea
and for dessert I'll suck your teeth
Be too sweet and you'll be a gonner
I'll pull a Jeffrey Dauhmer
I eat boys up, breakfast and lunch
Then when I'm thirsty, I drink their blood
Carnivore, animal, I am a Cannibal
I eat boys up, you better run
I am Cannibal
I am Cannibal (I'll eat you up)
I am Cannibal
I am Cannibal (I'll eat you up)
Ohohwoahohwoah x8
I am Cannibal
I am Cannibal (I'll eat you up)
I am Cannibal
I am Cannibal (I'll eat you up)
I love you
I warned you
Roar
Image Gallery
Edit