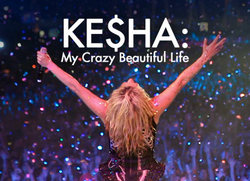 Ke$ha: My Crazy Beautiful Life is an upcoming American reality documentary television series on MTV. The series is scheduled to premiere on April 23, 2013.
Ke$ha announced the series on the debut episode of Nikki & Sara Live. 
The series sheds a completely different light on Ke$ha as she works through all the drama and adventures in both her personal and professional life over the course of two years. Filmed by her journalist brother Lagan Serbert, it also encompasses the artist as she creates her newest album, Warrior, and travels to various countries.
Ke$ha: My Crazy Beautiful Life
Genre
Docu-series
Format
Reality
Starring
Ke$ha
Country of origin
United States
No. of seasons
1
Production
Executive

producer(s)

Jack Rovner
Ken Levitan
Lagan Sebert
Liz Gateley
Lukasz Gottwald
Tony DiSanto
Production

company(s)

DiGa Vision

Magic Seed Productions
Vector Management

Broadcast
Original channel
MTV
Picture format
480i (SDTV)